Applied Aikido: Body Wisdom in Communication

"Empathy is Presence: Pure presence is what is alive in a person at this moment, bringing nothing from the past." Marshall Rosenberg

View an introductory free lesson at: http://communicationharmony.com
Six YouTube Soundbites on identifying styles of confrontation with pressure in personal communications, and applying embodiment practices to building communication harmony on grounded centered connections that create peace.
Body-Wisedom in Communications
Including Aikido Walking with George Leonard
Introduction by Wendy Palmer

is now on an improved format
CLICK HERE TO SEE
Workshops, private sessions, and online courses
When facing pressure, can you:
Show up fully?
Stay centered?
Speak your truth?
Listen compassionately?
Identify your core needs?
Access intuition reliably?
Here's my video on applying Aikido principles to shadow work demonstrated at : https://youtu.be/SgV5DZ2HkiA
VIDEO INTERVIEW: How to Build a Culture of Empathy with Aikido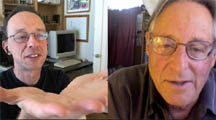 I was asked recently to moderate a teleconference on Aikido and Empathy.

The Center for Building a Culture of Empathy is the home of the global empathy movement. The founder states: Our mission is to build a movement

for creating a global worldwide culture of empathy and compassion. We bring people together and hold in-person and online meetings and empathy circles. We are collecting and organizing all t

he material we find on the internet on the topics. Researching through the arts and sciences. We are putting together a series of documentaries to educate the public and much, much more. Edwin Rutsch
This program was presented at a Northern California conference of lawyer and psychologist mediators (ARDNC.) Jeff Goldfien, JD, LLM, ADRNC Board Member stated: "In this experiential and invigorating presentation we discovered that equanimity in the midst of the push and pull of conflict, and openness to the creative potential inherent in conflict have a felt basis in the body."
"This contributed to my work as a mediator and teacher of Compassionate Communication. 
Jerry gave me a felt sense of the importance of working somatically. I loved it." Martine Algier
NVC, COMPASSIONATE COMMUNICATION, and EMOTIONAL AIKIDO: Would you address the connection between Non-Violent Communication (NVC) and Emotional Aikido? "The answer to this question begins by understanding that NVC is a language skill... and Aikido is an embodiment pracice (read more)
Peace Dojos International is a project of Aiki Extensions (www.aiki-extensions.org,) an organization dedi-cated to disseminating and applying Aikido principles and methods outside the traditional martial arts training situation. Greener Mediations is an active member of Peace Dojos International through which TUNING IN is made available around the globe. A Peace Dojo is a martial art school in which martial practice is explicitly oriented towards teaching aiki skills of non-violent conflict resolution and creative peacemaking.
See Wendy Palmer teach centering under pressure at work.
SF Examiner covers Jerry Green
A talented martial artist making a difference. Jerry Green – Part I
By Paul Rest, SF Martial Arts Examiner This writer met Jerry Green many years ago at the old Centerfield Aikido. Jerry was an enthusiastic and dedicated Aikidoist who always had a wonderful positive attitude on the mat and it was always fun training with him. (Read more... )
Jerry Green – Part 2 "The third area of research was in Jewish mysticism, which has more to say about head/heart/hara and circle/square/triangle that all that's been written in Aikido. (Read more…)